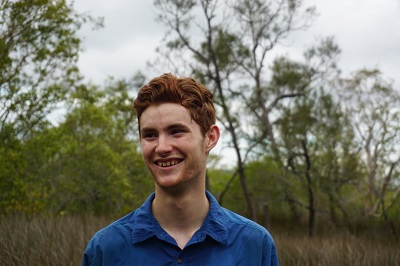 Mangrove researcher and University of Queensland PhD candidate Jack Hill has won best student presentation at the recent Australian Marine Sciences Association (AMSA) conference.
The event, AMSA 2023 – Science in Sea Country, was held at the Gold Coast and brought together marine scientists to advance understanding of Australia's unique marine environment.
Mr Hill researches mangrove tree architecture and ecosystem function, usually knee-deep in the mud in Quandamooka (Moreton Bay).
The young researcher said he was thrilled to have been part of a national marine science forum.
"AMSA conferences are amazing events, providing a space to exchange traditional ecological knowledge and Western science," he said.
"And it was a great opportunity to share my exciting results regarding mangrove tree strength.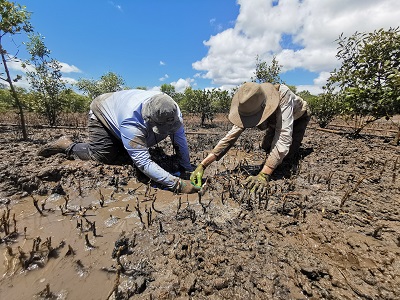 "Mangrove forests protect coastal communities from extreme events like cyclones and tsunamis, but we don't really know what extreme conditions might cause mangrove trees to fail, uprooting or snapping and losing their protective function.
"My colleagues and I built this knowledge by heading for the field and pulling on trees with a winch to measure their response.
"This data could be used to predict whether mangrove forests will survive under simulated extreme conditions."
His research was praised by attendees, with Mr Hill being awarded for best student presentation at the conference, recognising his enthusiasm for mangrove science.
"I love talking about mangroves and unusual methods, so the award was a nice recognition of the value of fundamental science like this," Mr Hill said.
"It was a great way to finish an excellent conference – the week had featured fantastic presentations from Indigenous-led projects on Sea Country, and a workshop about best practices for co-design with Traditional Custodians.
"Indigenous Australians were the first ecologists and have cared for Country since time immemorial, so it's important to acknowledge the Traditional Custodians of Country and Sea Country across the nation.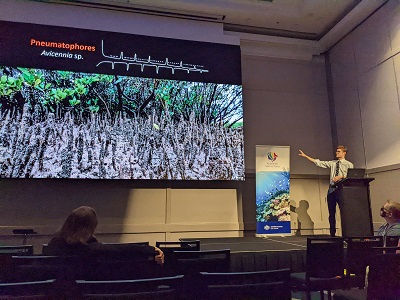 "And I would also like to thank Professor Catherine Lovelock, who funded this 'unique' work, and fellow PhD candidate Vicki Bennion, who helped with most of the tree trials.
"UQ has been a phenomenal place to discover more about our incredible and unique marine environment.
"I'm really hoping to return to AMSA conferences in the future and share more mangrove insights."
Mr Hill studies within UQ's School of the Environment and commenced his studies at UQ with a Bachelor of Science, blending marine science and ecology courses.
Media: Jack Hill, jack.hill@uqconnect.edu.au, +61 422 683 634; Faculty of Science Media, science.media@uq.edu.au, +61 438 162 687.