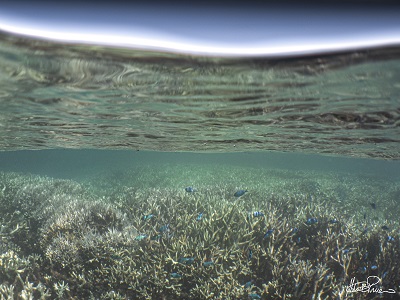 A collaborative project led by The University of Queensland's citizen science program CoralWatch is aiming to get more people collecting valuable coral health data around the world.
Working alongside the National Ocean and Atmospheric Administration (NOAA) and the publicly funded non-profit, PADI AWARE Foundation, the project will involve sharing and combining observational data to enhance our understanding of coral bleaching events and their causes.  
And with a global mass coral bleaching event predicted for 2023/24, CoralWatch team member, Marta Panero, said the timing of the collaboration couldn't be more perfect.
"This is an extremely important collaboration, not only for the predicted bleaching event, but the already existing mass bleaching happening in the Caribbean areas," Ms Panero said.
"Based on the observations of NOAA, we know countries such as Costa Rica, El Salvador, and potentially Panama and Galapagos, and of course Australia could be severely impacted by bleaching events in the near future.
"It's vitally important we have as much information and data available to us as possible, and with the help of NOAA and PADI, we'll go a long way to achieving that."
CoralWatch is a UQ-run program that integrates global coral health monitoring with education and public outreach creating reef awareness using simple and engaging tools for its users.
This provides people with accessible information about coral reefs and climate change, and hands-on experience collecting scientific data on coral bleaching using the Coral Health Chart.
Ms Panero said CoralWatch's established communities in many countries around the globe would help with the collection of useful data.
"What's great about CoralWatch is it makes science accessible to a lot more people than we could ever hope to have on a project like this under regular circumstances," she said.
"This led us to the idea of collaborating on the analysis of the combined datasets to boost the amount of data we have on hand, and identify patterns, trends, and correlations related to coral bleaching."
Moving forward, the plan for CoralWatch is to get the word out there within their established communities to not only gather more data, but also raise awareness of the issue.
"Firstly, CoralWatch is planning to conduct webinars focused on educating and spreading awareness about bleaching and what people can do to help collect data," Ms Panero said.
"To better reach our community, we will also share more information on this issue through our social channels on X, Facebook, and Instagram.
"Importantly, we are also in the process of upgrading our database, with the aim of adding more visual features such as interactive maps with graphs, which will give users instant and useful information about bleaching."
If you are interested in getting involved, head to the CoralWatch website, where you'll find materials with more information on how you can contribute.
Media: Faculty of Science Media, science.media@uq.edu.au, +61 438 162 687.