Written by Associate Professor Carissa Klein, Dr Vicki Martin, and Ilha Byrne.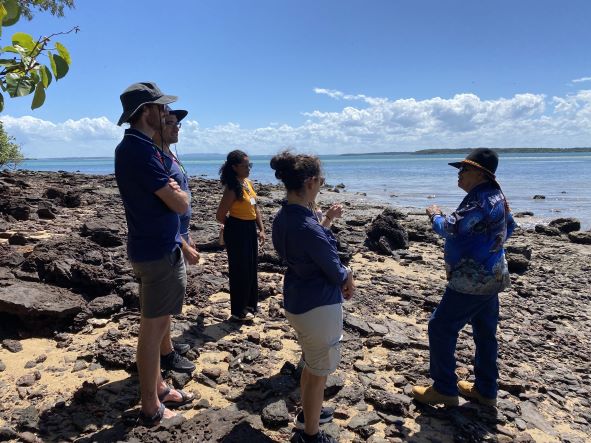 Researchers at The University of Queensland (UQ) have a longstanding history of working in Moreton Bay, which comes with an impressive
network of local, national, and international partnerships. 
The Sustainable Urban Seascapes - Moreton Bay (SUSMB) project was funded by UQ to capitalise on its transdisciplinary expertise in marine and conservation science to develop innovative solution for the sustainable management of urban seascapes, using Moreton Bay as an examplar. 
Research was driven by scientific priorities identified by Traditional Owners and stakeholders in Moreton Bay, including the Quandamooka Yoolooburrabee Aboriginal Corporation (QYAC) and the Queensland Department of Environment and Science. 
Researchers are currently seeking funding to expand the project to include other locations and broader goals relevant to sustainable management of urban seascapes. 
The SUSMB project was co-led by UQ's Professor John Pandolfi, Associate Professor Carissa Klein, Professor Catherine Lovelock, Professor Cynthia Riginos, and Dr Simon Albert. Research staff included Dr Alistair Grinham, Dr Nathaniel Deering, Dr Gal Eyal, Dr Vicki Martin, Bridey Crowe, and Ilha Byrne. 
The SUSMB project had three research programs: 
Led by Professor Pandolfi, Program 1 developed a model approach to understanding ecological dynamics in urban seascapes that fed into conservation planning of Program 3. 
Led by Professor Lovelock, Program 2 engaged with government and other stakeholders to co-develop research needed for innovative solutions to mitigate the impacts of climate change and urbanisation, including sustainable placement of coastal and marine restoration initiatives and aquaculture ventures. 
Led by Associate Professor Klein, Program 3 gathered recreational boater values data for use in conservation planning to help inform the sustainable management of Moreton Bay. 
To date, seven field expeditions have been successfully completed as part of Program 1. 
These trips have enabled researchers to routinely survey key siets inside and outside the Bay, collect environmental data, and numerous samples for environmental DAN (eDNA) analyses. 
The results of this work were showcased at the Australian Coral Reef Society conference in November 2022. 
In light of the recent flood events, numerous sediment samples have been collected and analysed pre- and post-flooding as part of Program 2.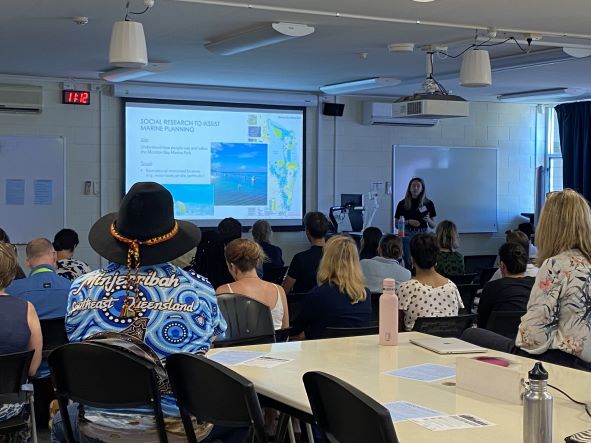 This data provides important insights into the effects of flood events on the health of our waterways and coastal ecosystems. 
As part of Program 3, extensive surveys were conducted to collect data on social values and use of the Bay and this was presented at the Ecological Society of Australia and the Society for Conservation Biology Oceania's joint conference last year. In addition, SUSMB has allocated seed funding to eight researchers to pursue complementary research, including work on the accumulation of microplastics in Moreton Bay sediments (Associate Professor Helen Bostock), seagrass habitat mapping (Associate Professor Chris Roelfsema), and characterising the microbial community in local saltmarsh habitats (Dr Inka Vanwonterghem). 
A final SUSMB workshop was held in December 2022 to showcase the research outcomes of this initiative to stakeholders, Traditional Owners, and other researchers.