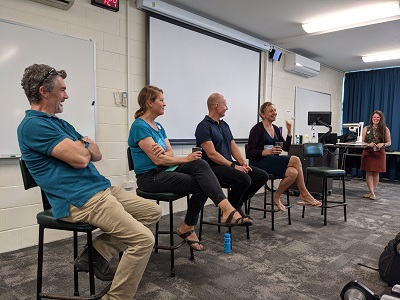 A workshop aimed at helping early and mid-career marine science researchers realise their full potential through collaboration and networking was recently held at the Moreton Bay Research Station (MBRS).
The event, organised by UQ's Centre for Marine Science Early and Mid-Career Research Committee (EMCR), was attended by 25 early career researchers and PhD students from various schools across UQ, and hosted several panellists from the Centre for Marine Science (CMS), the MBRS, and the industry.
Dr Alice Twomey is a member of the EMCR Committee and said a major benefit of the workshop was the opportunity it provided for attendees and committee members to discuss the challenges of conducting interdisciplinary research in marine science.
"The EMCR Committee consists of researchers across different UQ schools, each with a research focus on some aspect of marine science," Dr Twomey said.
"We all understand the importance of interdisciplinary collaboration but one of the largest barriers is not knowing how to involve academics from different disciplines – that's why this workshop was such a great opportunity for everyone."
Panellists at the workshop provided attendees with a valuable insight into the different ways they can categorise their research to simplify the process of collaborating with researchers from other industries.
"As researchers, we tend to label ourselves by our most narrow field of research, such as 'wetland inlet geomorphologist', 'veterinary parasitologist' or 'seafood sustainability scientist', to name a few," Dr Twomey said.
"This means that we often don't identify ourselves as a 'marine scientist' – and it can be hard to find commonalities and shared skill sets or interests with researchers if we don't more broadly categorise ourselves and identify with fields outside our niche.
"For me personally, I met several researchers who were conducting very similar research to mine, but with a totally different application or within a different coastal or marine ecosystem.
"I left the workshop with lots of great project ideas and potential collaborators, and I'm sure many other people in attendance did as well."
Fellow attendee and EMCR Committee member, Dr Inka Vanwonterghem, said the committee was motivated to organise this session to help bring the marine science community at UQ closer together.
"The marine science community is currently very dispersed at UQ, with people working across a broad range of topics, schools and faculties – from policy, management and social sciences, across ecology, biology, molecular and physical sciences, over to engineering and advanced technologies," Dr Vanwonterghem said.
"With this workshop, we wanted to bring marine science researchers together to offer them an opportunity to get to know each other, share research interests and identify opportunities for collaboration.
"Part of the workshop involved breaking off into groups of three or four and coming up with interdisciplinary project ideas that involved all of our skills.
"It was truly fascinating to see the diversity of research projects that we could come up with in such a short time and really drove home how important and beneficial collaborative projects like this can be."
The Moreton Bay Research Station on North Stradbroke Island was a perfect location to host the event and provided attendees with a glimpse of the many potential marine and land-based research opportunities available to them at the facility.
"It was an excellent opportunity for researchers to check out the facilities and was a great way to promote usage of the research station by early and mid-career researchers, something we'd love to see a lot more of in the future," Dr Vanwonterghem said.